27' Tiki Plunge Dual Lane Water Slide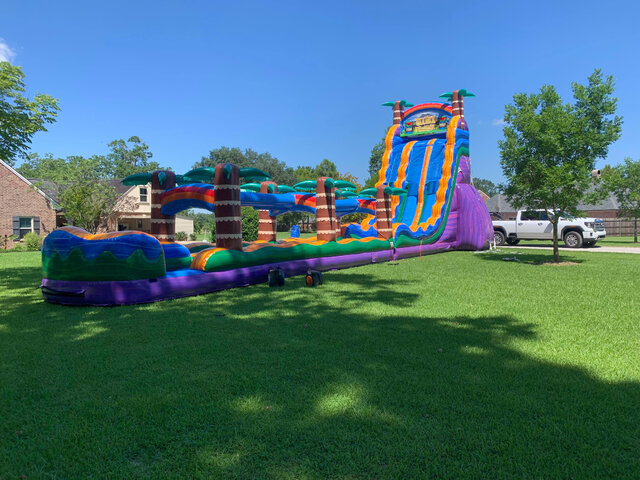 Setup Area: 24x74x28
Actual Size: 21x72x27
Outlets: 2
Description
Warning…This waterslide is AMAZING!! This may become your new favorite thing to do this summer!
At 27ft tall, the Tike Plunge Water Slide is almost 3 stories tall. This beautiful inflatable waterslide is massive in size. It is larger than the top of many houses, schools and business locations that we deliver to. Did we mention that this waterslide provides 75ft of sliding? This really is a GIANT water slide!! It will no doubt, blow your mind.
2 Dad's Bounce Houses 27ft Tiki Plunge 2 Lane Slip n Splash Water Slide features stairs on the left side that lead to the double slide lanes on the right. The stairs and slide lanes are all located on the front of the slide. This avoids any view obstruction of the participants, allowing you to clearly see all activity for proper supervision. Once at the top of the steps, your heart begins racing with excitement as you make your way over to the steep slide lanes. As you take your place at the top, you glance over at your friend and get ready to race. Who will be the 1st one to splash into the pool? And so the competition begins…You are speeding down the inflatable waterslide and then onto the 40ft long extended slip n slide portion. Hold your nose, the pool is coming!! You make an impressive splash into the pool at the end, Only to realize that you reached the pool first…And you win. With your adrenaline pumping, You can't resist doing it all over again…It is official you and your guests LOVE this Tiki Plunge Water Slide!
This is a must have for any summer time party in or around Phoenix Arizona. Kids & Adults all seem to love this waterslide rental. The Tiki Plunge Waterslide is best suited for anyone over the age of 5, as the 27ft height can be slightly intimidating for the toddlers. This waterslide is a favorite with the Teenagers & Adults.
Give 2 Dads Bounce Houses of Peoria a call today at 623-295-9905. Let's plan a party your guests will never forget!