Dunk Tank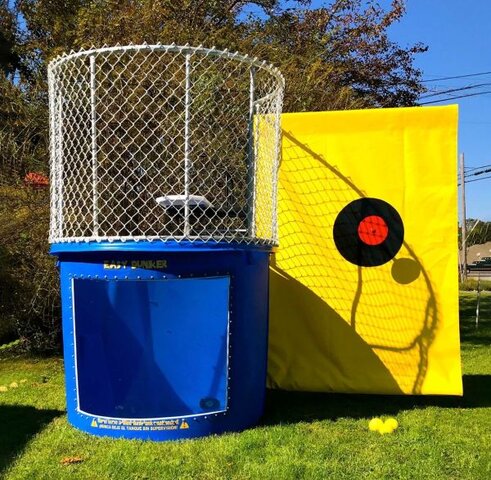 Setup Area: 10x10
Actual Size: 8x8
Dunk tanks have to be the most fun way to get the party started. That's one of the reasons why dunk tanks are the life of birthday parties, get-togethers and are becoming increasingly common at fundraisers and school carnivals. However, unknown to many people, we are home to the largest selection of various sizes and types of dunk tanks in Phoenix, Arizona. Not only does having a sizable selection of dunk tanks mean that there are so many choices, but your guests will never get bored of them.

Our teams make sure to check and double-check every dunk tank before it is delivered. Furthermore, we ensure that the dunk tank is installed professionally by our team at no extra cost. Whether you hire a single dunk tank for a school carnival or a dozen for a commercial event, we make it a point to deliver them (dunk tank) on time and ensure they are ready to start dunking people before the party starts.

Are you planning a birthday party in Phoenix? Have a few corporate events planned for this year? Then make sure to book a few of our dunk tanks, guaranteed to keep everyone entertained.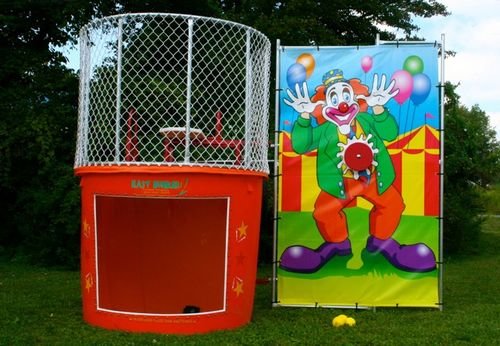 Fun In The Sun with Our Phoenix Dunk Tank Rental
We have been dealing in dunk tank rentals for several years. During this time, we've rented our dunk tanks out to churches, businesses, and schools amongst those hosting backyard birthdays. Not only do they offer hours of endless fun in the sun, but dunk tanks never get old. Furthermore, while they may appear to be dangerous, none of our dunk tanks can cause injury. Each one is checked to ensure it is safe and installed correctly.

When renting out dunk tanks, we leave nothing to chance. We fill dunk tank(s) correctly and how it is recommended by the manufacturer. However, prior to that, our team will clean and sanitize the tank before delivery. So, not only can everyone be assured of a safe party game, but have peace of mind knowing everyone is safe.

At 2Dads Bounce Houses, we go to great lengths to make sure that everyone can use our dunk tanks. However, to ensure that everyone gets to have fun, we've priced our dunk tanks competitively. Furthermore, we offer deals on bulk rentals, essentially helping save money while planning your next party.
Why Rent Our Dunk Tanks and Water Slides?
Well, there are many reasons to choose our dunk tanks and water slides for your special events. In fact, we've got a pretty wide selection of inflatables and various other party rentals. Over the years, we have become the party rental service for homeowners, business owners, and even those planning a company picnic.
Here are a few reasons why many people choose our dunk tanks over others:
Competitively priced dunk tank rental – Unlike other dunk tank rental services, we don't overcharge customers just because our dunk tanks are rare. In fact, we offer you the most competitively priced dunk tanks with no hidden costs or charges. In other words, the prices you see on our website are what you will pay.
Free transportation and installation of your dunk tank hire – That's right! we don't just deliver the dunk tank to your doorstep or the venue but also set it up for you. We have a team of professionals that set up the dunk tank in the best possible way.
Safety is a priority – We take the safety of everyone using our rental items very seriously. That's why every item is inspected closely prior to delivery and after it is retrieved. If a defect or any other issue is spotted with the dunk tank, we replace it with another right away.
Excellent customer service – We have a seasoned customer service team that will work with you from the very beginning. Whether you need help choosing a dunk tank or want to hire more than one party item, we can help you.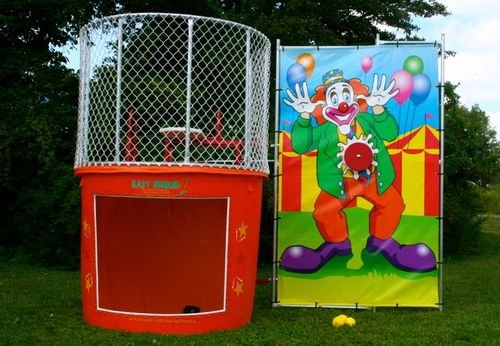 We deliver Dunking Booths in Phoenix
We deliver dunking booths or dunking tanks across Phoenix, AZ, and at any time you want. As part of our service, installing the dunk tanks you hire is already included in the prices. A specialized team of professionals will make sure that the tank is installed correctly after delivery. However, you will want to ensure that there is a water outlet near where the tank needs to be placed. Our team can extend a water hose, but some places can be hard to access. So, ideally, if it is a party in the backyard, you'll want a tap or water point to be also in the backyard, but it can be around the corner too.

Furthermore, we make it a point to remove the dunk tank after the party is over. Our team handles draining and preparing it for transportation to our warehouse. Removal of the tank from your party is also included in the price. In fact, you don't have to worry about the dunk tank after the party. However, feel free to call us if you need it removed before a certain time. We will then logistically plan for it.

At 2Dads Bounce Houses, our goal is to make sure that your party is a success. Whether it is hiring dunk tanks, tents, inflatables, or any other item, our team is more than happy to assist.

Feel free to call us today or send us a mobile phone message for a quote or if you have any questions about our rental service. We also check our e-mails, so shoot one over if you have a question.