Next Level Birthday Parties in Phoenix, AZ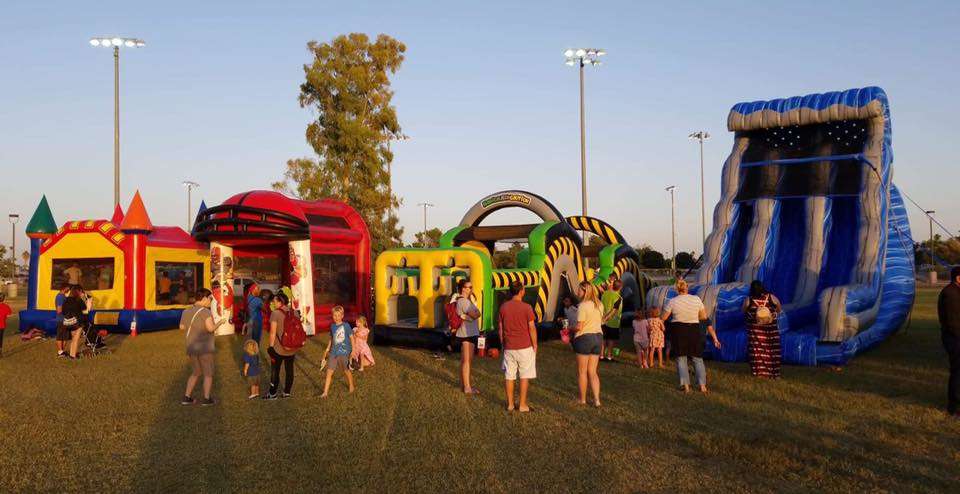 Let us relieve your stress and deliver the fun!
At 2 Dads Bounce Houses, we've got the best birthday party goodies in Phoenix, Arizona. In fact, we can tell you from years of experience that Phoenix is the of the best places for any type of birthday party, mainly because it stays warm all year round. However, we also know that your party's venue makes a lot of difference, which is why we've got a large selection of items to warm up any party room.
We can load your private party room with everything from water slides, pools to arcade games and swings. We've also got laser tag for the more energetic teams. Furthermore, you get to customize the experience everyone has at the birthday party. After all, our goal is to make sure birthday parties for our clients are fun which is why we take care of everything. You can book a birthday party at any time by choosing one of our party packages. You can then leave your birthday child and their friends' pleasure to us!
We are the perfect choice for parties, for youngsters starting ages 4 all the way up to, whatever you decide. Want to learn more? Call us today to discuss your childs' upcoming birthday party.
When it comes to the best birthday parties Phoenix has to offer, there's no reason to look any further than 2 Dads Bounce Houses. Let us take the stress and worry out of the equation of planning your next party. With the largest selection of fun bounce house rentals, water slides, obstacle courses, carnival games and more, turn your space into your very own party oasis. Our friendly knowledgable staff is here to assist you from start to finish. From helping you choose the perfect items for your party, to deliver and picking up the items when the party's over.
Click Here To Reserve By Date
Click below for the best birthday parties Phoenix has to offer!
Order-by-Date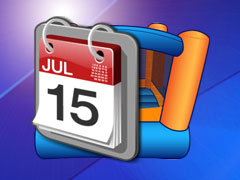 Party Package Specials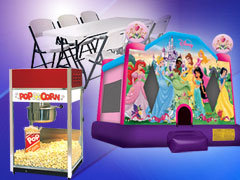 Combos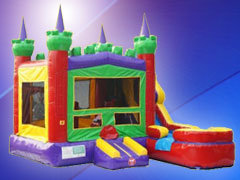 Water Slides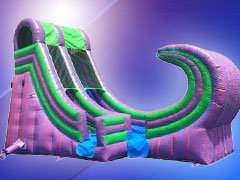 Obstacle Courses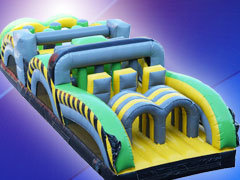 Interactives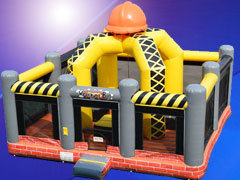 Dunk Tank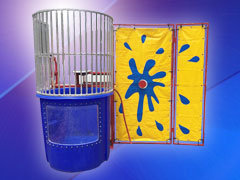 Bounce Houses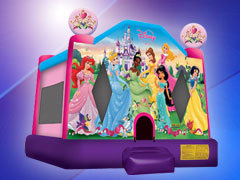 Dry Slides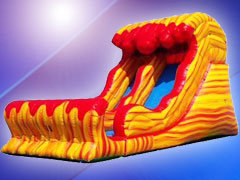 Rock Climbing Wall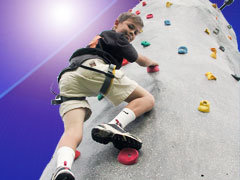 Concessions and More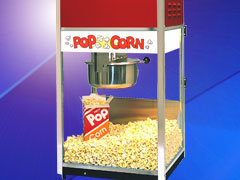 Tents Tables and Chairs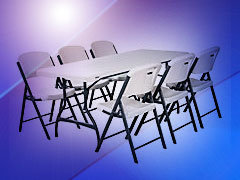 Holiday Themed Inflatables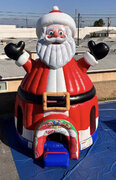 Why Choose Our Birthday Party Packages?
We have proven over the years that you don't need to break the bank to host your kids' birthday party. You can even do something as simple as taking the kid to the Children's Museum of Phoenix! However, just because your budget may be limited, it does not mean that you have to compromise on the quality of the items you hire or even the quality of the party. Our team can set up everything for your birthday parties in Phoenix and all without you having to worry about the safety and security of everyone at the party.
If you are still on the fence about our birthday party packages, then here are a couple of reasons to choose us:
The Largest Selection of Inflatables – Whether it is an inflatable water slide, jump houses, or obstacle courses, we've got it all and more. What's more, we've got the latest and greatest ice cream machines, some of which you can't find anywhere else. Call us to find out what our packages include.
Affordable Birthday Party Rental – We are strong believers in the fact that you don't have to spend a lot of money to have fun. While some items are expensive, we've got many that don't cost a lot, making them perfect for times when you're planning a birthday party on a budget.
Excellent Customer Service – Whether you're hiring for birthday parties in Phoenix, AZ, or any other venue, you can be assured of excellent customer service. Our goal is to make sure that your private party is lots of fun for everyone and go the extra mile to ensure that.
Quick and Easy Rental Service – Renting for your party has never been easier thanks to our state-of-the-art booking system, everything can be done online. However, you can always call us to get recommendations for the best birthday party places.
Delivered On Time – All items you hire are delivered on time as requested. Plus, items like inflatables are set up by our team of professionals.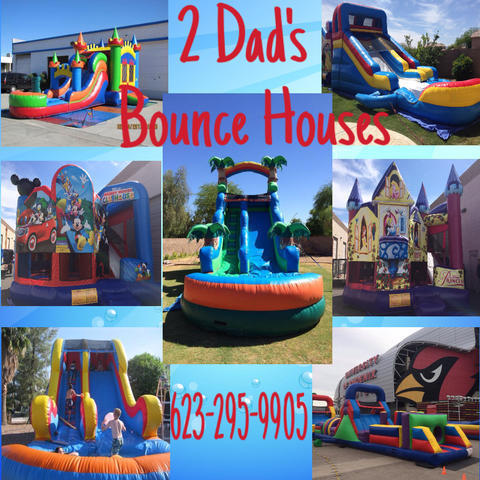 Affordable Birthday Packages For Every Budget
Whether you want to hire bounce houses, waterslides, dry slides, combo houses, tent rentals, or interactive games, we've got them all. Every item can be booked and reserved online. However, the most important thing is that our party rentals are competitively priced with transparent pricing, making us the perfect choice for backyard bashes and school events. If anything, you will save money by choosing to hire from us! 2 Dads Bounce Houses offers birthday party packages of all types.
We also offer custom quotes for long-term and bulk rentals in Phoenix as well as nearby Glendale, AZ. Whether you want to hire a water slide for the entire week, a month, or for the entire summer, we can offer you the best rates that save you money. So, you save more the longer you rent.
Safety Is Always A Priority
Like all quality party rental companies and even similar to an amusement park in Phoenix, Arizona, we prioritize the safety of our clients. That is why every one of our professionals is fully licensed and insured. Our team makes sure that all items are checked before being safely installed. If the safety of an item like an inflatable can't be assured, we will let you know.

Our team also sanitizes everything after a close inspection both before delivery and after we've picked up the items from your party's venue. That way, we can be assured that all items are continually safe to use for our clients. You are also free to report potential issues to our professionals at your party room.

Have a question about how we sanitize or ensure our items are safe? Then please get in touch with us today. Our team will be more than happy to answer any of your questions.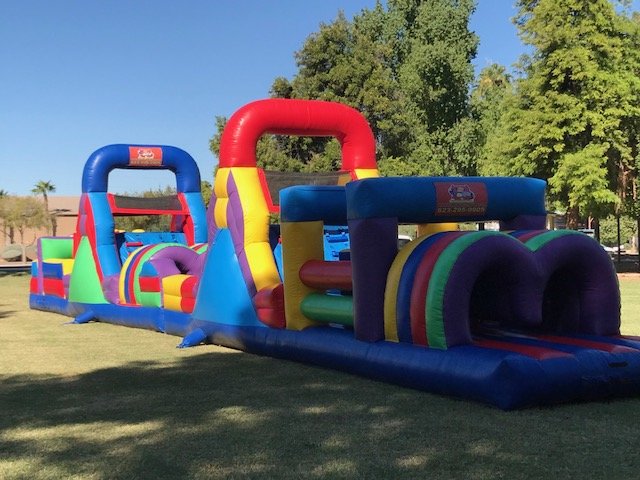 Let's Party!
Whether you are currently in the process of planning an upcoming party or event, our team can help you every step of the way. Located in the heart of Phoenix, you can take advantage of our years of experience to make sure that your party is a success. Furthermore, we can also help you to choose the right rentals and décor for the party.

You can contact our team directly over Facebook, get in touch with our website, or better yet, maybe give us a call. We will be more than happy to help you choose the right party items and reserve them for your event.