Phoenix Water Slide Rentals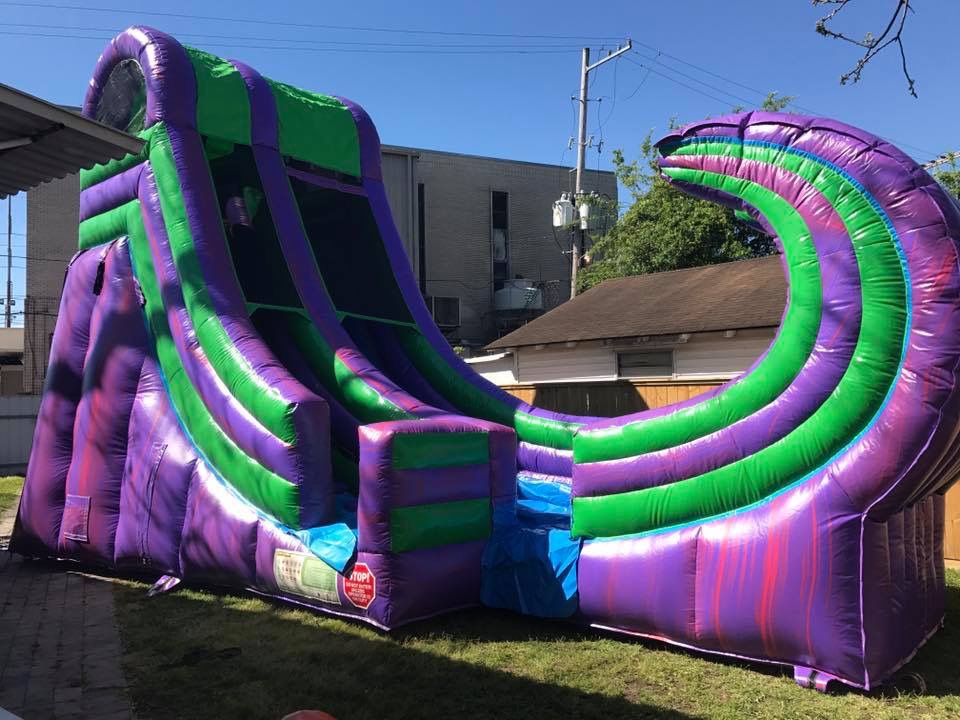 2 Dad's Bounce Houses: The Best Phoenix Water Slide Rentals
If you're looking to make your summer party or special event unique and fun, 2 Dad's Bounce Houses have the just what you need. We have the best Phoenix water slide rentals available. Water slides are a great way to stay cool on those hot summer days. 2 Dad's has a wide variety of water slides for kids and adults, including a water slide and bounce house combos, stand-alone slides, and giant waterslides.

When you're looking for Phoenix water slide rentals for your party, you want something that not only fits your needs and budget, but that is safe and clean. 2 Dad's Bounce Houses makes safety and quality a top priority. Our large variety of water slides fits every need and budget for your big event. Water slides are great for just about any event; birthday parties, corporate events, fairs, charity, and fundraising events, picnics, or as a special treat in the backyard.
18' Lego Water Slide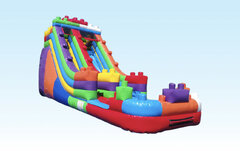 16' Red Marble Slide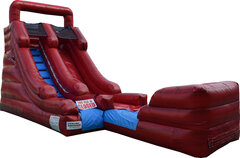 16' Tropical Water Slide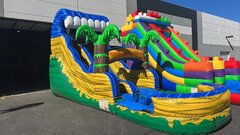 18' Tropical Water Slide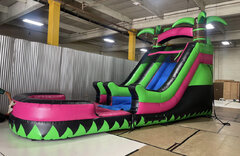 18' Volcano Rush Water Slide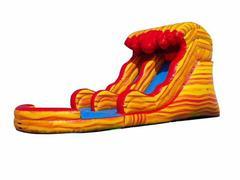 19' Tidal Wave Water Slide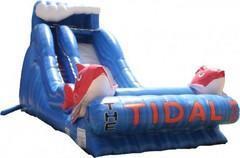 21' Riddlers Wave Water Slide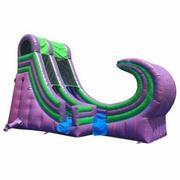 21' Tropical Storm Water Slide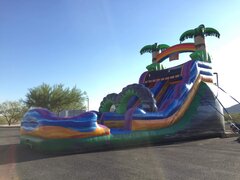 24' Screaming Blue Crush Water Slide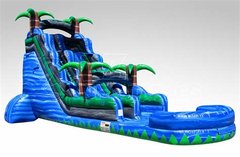 24' Screaming Purple Crush Water Slide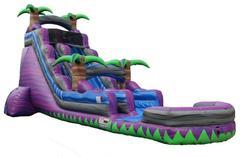 24' Sugar Rush Slide Water Slide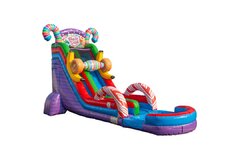 24' Tsunami Dual Lane Water Slide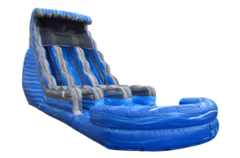 27' Tiki Plunge Dual Lane Water Slide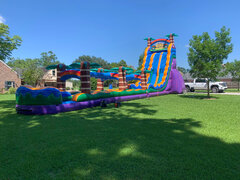 4in1 Bounce House water slide combo with hoop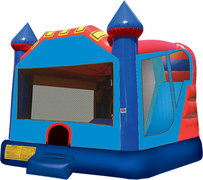 4in1 Classic Combo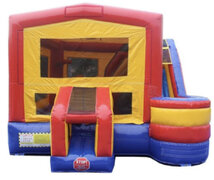 5in1 Princess Bounce Houses Water Slide Combo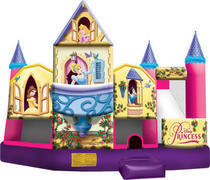 6in1 Majestic Castle Combo Water Slide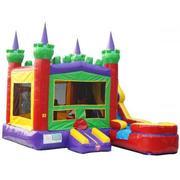 Carnival and Circus C4 Combo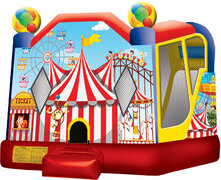 Cars bounce house water slide combo with hoop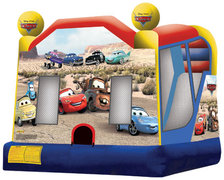 Crazy Castle Combo with Hoop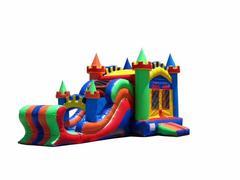 Dazzling 4in1 Bounce House Water Slide Combo with hoop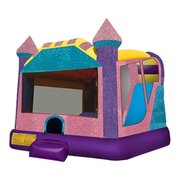 Double Lane 40' Xtreme Slip and Slide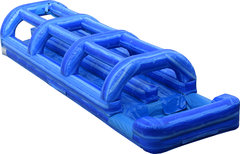 Fire and Ice Dual Lane Water Slide Combo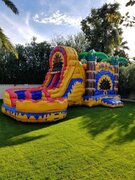 Fire Palace Dual Lane Water Slide Combo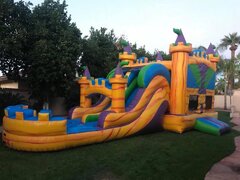 Frozen 4 in 1 Combo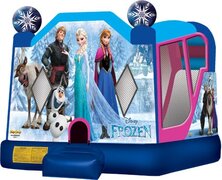 Jurassic Dinosaur Combo with Hoop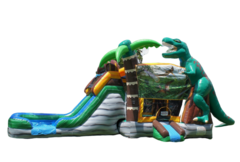 Kingdom Castle Dual Lane Water Slide Combo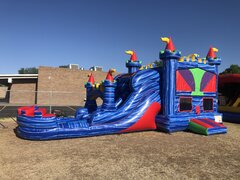 LIL Splash Water Slide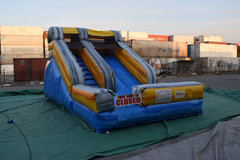 Maui Dual Lane Water Slide Combo with Hoop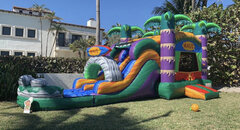 Mermaid Bounce house Slide combo with Hoop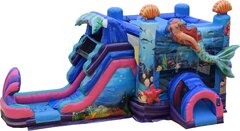 Mini Combo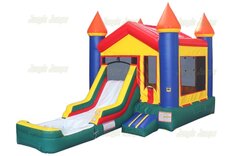 Monster Truck Combo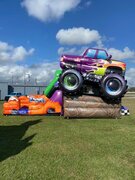 Multi Color Dual lane Combo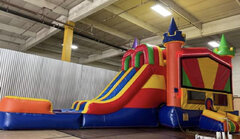 Shark Combo With Hoop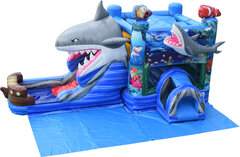 Shark Slide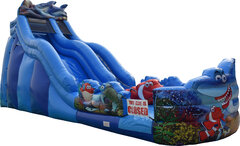 Skid Loader Bounce House slide Combo with hoop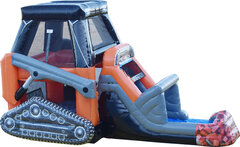 Sports 4in1 Bounce House slide combo with hoop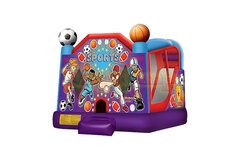 Sugar Shack Double Lane Water Slide Combo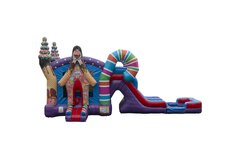 The Big Kahuna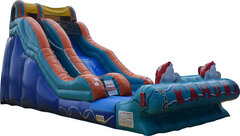 Under The Sea Dual Lane Bounce House slide combo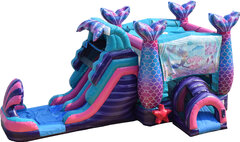 Unicorn Dual Lane Water Slide Combo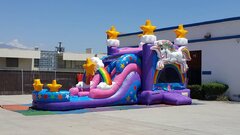 Unicorn Water Slide Combo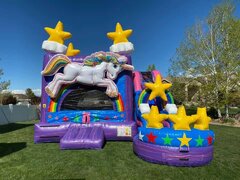 Wild Splash Slip and Slide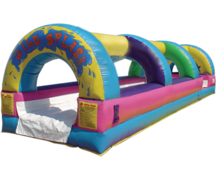 3 in 1 Combo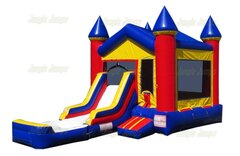 47' Mega Blocks Obstacle Course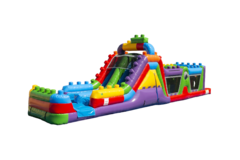 Lucky Combo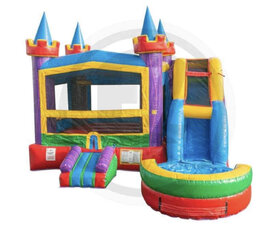 Mega Blocks Dual Lane Combo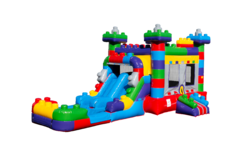 Looking for Water Slide Rentals AZ? Then Look No Further, We've Got You Covered!
We are one of the leading water slide rental services in Phoenix, AZ, with dozens of water slides available for hire. Whether you need a few small slides for kids under 8 or larger, more adventurous slides for young adults, we've probably got just what you need. At 2 Dad's, we are pretty sure that ours' is probably the largest inventory of water slides, both in terms of sheer numbers and variety. That's why whether you need the water slide to be the main attraction at a school fair or your child's birthday party, we have just about everything you need to make the party fun.

In addition to inflatable water slides of all sizes, we also have a pretty wide selection of bouncy castles. Many of our bouncy castles go well with most of the water slides available; when you rent both of them together, you can ensure hours of endless fun for people of all ages.
Are you looking for a water slide Phoenix, AZ? Then get in touch with us today.
We Handle the Installation for You
At 2 Dad's, we don't expect you, i.e., the homeowner or an event organizer, to have what it needs to install a water slide. In fact, there is certainly a science and technique associated with installing water slides, which is why we handle it for you.

Our team will install the water slide for you and then take it down after the party or event. That way, you don't have to worry about damaging the equipment. Also, we can be assured that our slides are being used safely, ensuring everyone's safety.
Water Slide Rentals AZ for Kids and Adults Alike
We offer durable waterslides for rent that are designed to survive just about anything. Our team also comes with the required water supply generators needed for large 30ft+ water slides. However, you should have at least two easy-to-access power sockets.

Our team makes sure that the water slides are installed in a way that makes using them safe. However, we would advise against installing or using water slides during adverse weather conditions like thunderstorms.

If you have a question about our water slide rentals in AZ, look no further than us! Call us today for a quote or to find out more. Our team is more than ready to assist you in any way possible.



Our highly trained staff and customer support will take you from choosing the best water slide rental in Phoenix to setting up and taking down the equipment. All of our staff are experienced operating all of our equipment. This means you can leave the work to us while you enjoy your party. We also have a 24/7 support line should you run into any issues with our equipment.

All of our equipment is cleaned and disinfected before and after each use. It is also tested regularly to ensure safety, cleanliness, and customer enjoyment. 2 Dad's Bounce Houses has the best quality water slide rentals in Phoenix and it's surrounding areas. We also offer fast and simple online reservations to make the planning process less stressful.

So for the best Phoenix water slide renatls, let 2 Dads provide the fun! Our business is family owned and operated. Our goal is to create a fun and memorable party experience that focuses on safety. 2 Dad's is fully licensed and insured, as well as being certified by the industry leader in bounce house and inflatable safety, SIOTO.

If you're planning your next event and need the best and most reliable water slide rental Phoenix has to offer, give us a call today! Also, if you're looking for other great companies that rent water slides around the area, check out Rebound Party Rentals, Leaping to Fun and Backyard Bounce KY.